Killer Whales are the enemies of penguins. Over the next few weeks we want you to be a Killer Whale.
First there are some things you'll want to make sure you're doing and have in place. We'll be talking about those today and tomorrow and then we'll have a video on Friday that should hopefully bring everything together.
Make sure you have Google Analytics set up so you can track eCommerce.
One of the things you'll want to do is figure out your money keywords – which keywords bring you in the most cash per visitor. In order for you to do this you'll want to make sure you have your analytics set up so you're tracking your sales. Here's an easy way to find out.
1. Log into Google Analytics – http://www.google.com/analytics
2. On the left hand side of your nav bar you'll want to click on conversions. You should have a bit that says Ecommerce.
3. If you click on Overview you should see something similar to the image below.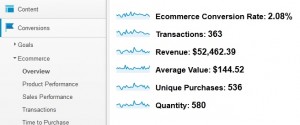 So what if you don't have eCommerce set up, they you'll want to make sure you figure out from your web folks why you don't have it and how they can make it happen. Many of the current shopping carts have an option to integrate this with just a few clicks of the mouse. Others it may take a bit more work. It shouldn't cost you too many hours of work to make it happen and it will be worth every penny. You will be able to learn so much from the information it really is a no brainer.
Google Accounts –
If you have analytics then you have a Google account. One thing we'll be talking about is using webmaster tools. So you should be good.
Google Feeds –
If you aren't using Google feeds – you're missing out on some free traffic from Google. I won't lie to you it does take a bit of time and effort to get this setup. Google has been working for a long time in trying to integrate all of their properties together. Playing along with Google is important for beating them. I have clients that easily make thousands of bucks a month from just their feeds – not counting how it helps them with their search rankings.
A good way to get started if you don't have a clue is to get someone else to do it for you. An easy way to do that is to go here – http://www.versafeed.com/ – you can try their plan out for $99 a month. We've used them in the past and I highly recommend them.
Google Places –
Again going back to playing along with Google. Having a Google places accounts helps to legitimize your business. In order to get listed they have to verify you. This verification helps to make you a real place. Real places get listed better.
Google Plus –
You'll want to have a Google Plus account – it takes a few minutes to do this. It can't hurt you and again helps to integrate with Google's other properties and integration is good.
We'll give you some more things you'll want to make sure you have tomorrow.