One of the things we'll want to do before we get started is to make sure our analytics are not only tracking how many visitors we're getting but how much those visitors are worth as well. The easiest way to do that is by making sure your Google Analytics has got e-commerce tracking.
1. Log into your Analytics.
2. Check to see if you have the following.
Old Version –
New Version –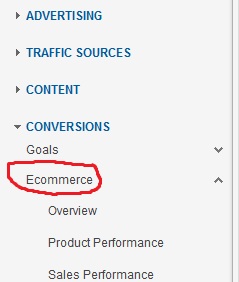 3. If you have an e-commerce link then you're good to go. If not then you'll want to do the following.
4. Setting up E-commerce is different depending on whatever cart you're using for your sales process. Most of the carts will allow you to plug in your Analytics number. You'll want to check out the documentation for your cart or speak to your Web Design folks. Google does have some guidance on how to do it.
http://support.google.com/googleanalytics/bin/answer.py?hl=en&answer=55528
http://code.google.com/apis/analytics/docs/tracking/gaTrackingEcommerce.html
If you're not a techie hiring someone to do it for you works well. You'll be able to track things much more concisely so whatever the expense is, it should be worth it in the future.
Tomorrow we'll have a news update on Friday we'll talk about how to start work on finding the money keywords.