We survived the snow from last week. About a foot of snow feel here, it was hard to get an exact measurement because the snow was drifting around so much. Our friends a couple of counties to the north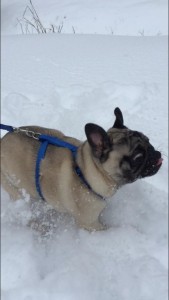 My Pug enjoying the snow
got a couple of feet. A lake we visit sometimes in the summer got a couple of feet too, causing portions of the marina to collapse and houseboats (some worth a couple hundred grand) to sink. We still have snow and driving around hasn't been much fun, but this weekend it is supposed to be in the '50's and then next week we may have some severe weather.
The power didn't go off, which was a blessing. Today we have some of my favorite bits of news from the week.
Having a list helps you know what needs to be done and when you need to do them. A couple of posts that tell you just that.
https://searchenginewatch.com/2016/01/27/14-most-important-seo-tasks-in-order-of-priority/
https://searchenginewatch.com/2016/01/21/seo-basics-22-essentials-you-need-for-optimizing-your-site/
Google revised their webmaster guidelines – here is an article that discusses those changes – http://searchengineland.com/google-updates-the-general-guidelines-section-of-their-webmaster-guidelines-241236
If you have some customers that use Instagram – here are some advertising tips.
http://webmarketingtoday.com/articles/120141-Why-and-How-to-Use-Instagram-for-Advertising/
I love playing around with Facebook advertising – guidelines for optimizing your targeting.
https://searchenginewatch.com/2016/01/25/how-to-use-facebooks-new-audience-optimization-targeting/
I hope you have a great weekend.